Get your freedom of warts!
Helping others is like breathing.. ❣ ️
In my life, empathy and willingness to help others have always played an important role. I am pleased to see that my children also inherit it. One time the guests came to us and brought really valuable gifts, though they weren't the most wealthy. My son (he was about 6 years old then) came quietly to me and whispered in my ear, "Mummy, let's give them my money I have been saving because they brought us such expensive gifts!" I still get emotional when I remember that 😌 ❣ ️
Today I want to share happy news I got from one of you my dear customers. You know how passionate I am about Lemontrees.info and essential oils and that makes me be even more active when I get such great news seeing that I could help someone get healthier and stronger. It makes me excited and happy. Please forgive me if I ever get too annoying with this info about essential oils :). Maybe one day you'll be happy you'll know where to look for a solution that works and improves health in a natural and effective way 😃
Summer is almost here - time to run barefoot, put on sandals and not worry about the feeling of discomfort that is when you have warts on the feet!
I shared with you previously that I got rid of all the warts for one of my kids using Oregano essential oil. This time I want to share with your new story - at the beginning of January, a mom wrote to me about her daughter who has warts and its painful for her to walk and causes problems. I advised to treat the warts with Oregano oil in the evenings. They were fighting warts for 2 months to get rid of them completely!
The images are taken after 4 weeks and after 8 weeks of using Oregano. After 8 weeks you can clearly see that the roots of the warts are gone, the skin needs to be polished and the victory is there! I am so happy for this victory, because I know how important it is to find a solution that works and doesn't hurt a child.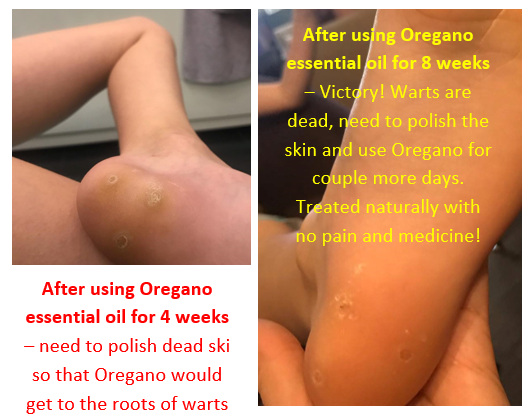 Don't leave the warts there untreated! From time to time check your child and your own feet and if you notice the warts, even if they are still small, start a fight! I haven't heard any cases of bigger warts disappearing by themselves until now. With little warts, often immunity gets rid of them by itself. But usually they are only growing and creating more and more problems. It's a relentless 4-8-week battlefield where you have to win! And Oregano essential oil will be your loyal weapon in this field!
In addition to Oregano's warts fight, I strongly recommend the use immunity-enhancing mixture of essential oils on OnGuard.Together with Oregano evening treatments, at least 2 beadletus should be used daily for children under 8 years of age, 3-4 beadlets for children 8 + and adults or 1 OnGuard+ softgel for adults if warts are already long time there.
A little more about what warts are and where they come from!
Warts are an infectious disease that can be caused by more than 150 different types of viruses and is one of the most common skin diseases, which is also contagious. There are different types of warts, usually classified according to their growth site: common warts (usually on fingers, hands whitish and forming above a rough surface of skin. Flat warts - they have a flat surface and can grow in groups. Plantar warts grow on the skin of the thickened foot. Visually looks like they grow in depth and usually cause discomfort and pain. These warts tend to grow in groups, too. Thread-shaped warts are formed on the face, growing on a thin leather leg (it should be noted here that warts and papillomas are not the same).
Oregano essential oil works great against all types of warts!
1508 comments
- Get your freedom of warts!
Leanna Fergussion - November 6, 2019 at 8:27 am
Suffering from herpes virus is a terrible experience because i was told it has no cure,the good news am happily sharing now is the great power behind herbal medication i got diagnosed of herpes virus in the year  2016 and in 2018 i started having outbreaks and it became more terrible for me to bare,One blissful morning i came across a blog comment posted by a man call Thompson on how he was cured of herpes simplex virus type 2 with the herbal medication of Dr Ehimare)who is a specialist in curing all kinds of std virus and chronic disease with herbs,i immediately copied out his contact mail that was
[email protected]
 Or Via WhatsApp  +2348077694025 and i explain all my problems to him, he was very honest with me and also kept his promise to get me cured with his herbs if i follow the prescriptions he gives along with the medication which i did exactly as he prescribed, to God be the glory My herpes simplex virus i have been suffering from got cured in just 2 weeks after completing the dose of his herbal cure. once again thank you so much sir for restoring my health back and most especially my skin. Please for any who has health problem of any kind should mail him on the email provided above mail me directly... Give him a chance and see what he can do.